Governor Mike Dunleavy Delivers Another Groundhog Day State & Capital Budget for 2020-2021……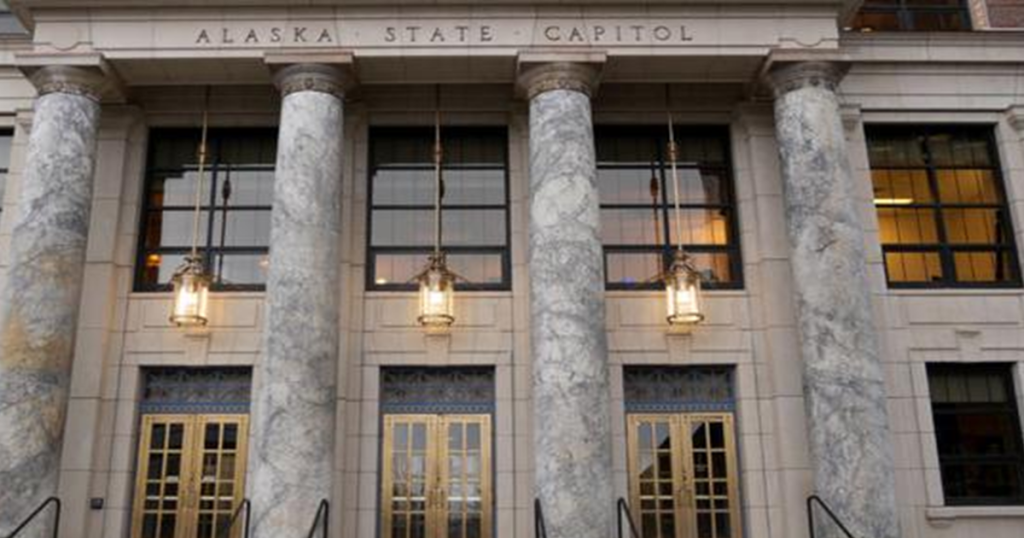 Helloooo My Fellow Alaskans!
We are just over a month away from the 32nd Legislative Session to begin in Juneau & we are about to have nearly the same dynamics happening in Juneau that we have seen now for the last five years.  Every very name in Green below won't hesitate to Sell Out Our Voices and Votes to be in the Illegal Binding Caucus. Read all about what the Future and Past will bring in the next Session that is About To Begin Once Again.
How much money are our Legislators really spending on our State & Capital Budget in 2020….
With the Announcement of the new "Wish List" from Governor Mike Dunleavy today for the Proposed 2021-2022 State & Capital Budget. Several things became painfully clear.
His Budget is almost Identical to what the came out with in 2019. I expect to see our legislators that the $4.1 Billion Budget and do the exact same thing they did that last two years. Throw it right into the Trash Can and pull back out the "Walker Budget".
We all was able to listen to him give us the same sad song we have heard since day one. He has for the "Third Time" reiterated the Constitutional Amendments he wants added and Once Again says he wants those Same Lawbreaking Legislators to let us have a Vote on the Future of Our PFD's.
As you can tell by my heavy sarcasm above. You can clearly tell I'm done listening to the same broken record for the third year in a row.
Any Alaskan with a Brain in their head knows we handed over the House and Senate right back into the hands of the Same Democrats & Rino's that are more than happy to Sell our Our Voices & Votes to be in the Illegal Binding Caucus.
Any Alaskan with Two Brain Cells in their head knows "WE ALASKANS" handed over the House and Senate right back into the hands of the Same Democrats & Rino's that are more than happy to Sell our Our Voices & Votes to be in the Illegal Binding Caucus.
When the Floor vote happens the Republicans need to stand their ground and if the bills they are wanting to pass don't "Cut the Budget", "Follow the Laws" completely, like for our Statutory PFD, Allows us to have a Vote on what the Future of the PFD will be. They need to always be voting No. We Alaskans that want accountability from our Legislators are tired of the Political Games they continue to play with all our lives. Nobody should Play Politics when "All Alaskans Futures" are on the line. Stop selling out to the Special Interests. Quit selling out to Recall Dunleavy. We all know who that group is and runs it. Alaska AFL-CIO, CIRI, Rasmuson Foundation, NEA-Alaska, Save Our State, every non-profit who gets money from our State & Capital Budget.
Show us you who call yourselves Conservative Republicans. Show us all you have an backbone and start demanding accountability and change. If they refuse to do it. Stand your ground, They cannot get anything past the finish line unless they work with you to get your votes.
We Alaskans that are tired of your excuses year after year telling us all you had to vote for it. You keep selling us out and hopefully this year you all will take the time to realize how many of you, we removed this year and made sure you were all voted out.
Final note here…..
Alaska House Majority, Alaska Senate Majority, Alaska House Republicans
"Ranked Choice Voting" is going to be the Law of the Land for the next two years. If you want a chance in hell to be voted in after this. You need to wakeup and realize you need us Voters now more than ever before!
We need your Help…
Exposing the Corruption that is happening in Juneau and around our Great State of Alaska has turned into a fulltime job. We are working hard to report what MSM won't tell us, expose our Corrupt Legislators for who they really are and what they don't want you to know. But, we need your help to do it. By Chipping in a couple of bucks, we will be able to expand our reach and improve our content to you! Help Us Grow and Chip in a few dollars today.
We are just getting started!
Politadick, Exposing the Corruption in Alaska with Facts, that Local Media won't dare show you!
We here at Politadick need your Support. Without your donations we cannot afford to keep "Breaking the News" that MSM and our Legislators refuse to tell you. We are looking to find 3500 people willing to donate $5-$100 dollars a month.  With your support we are looking to expand our content that we are bringing to you across all Platforms of Social Media.  All donations go directly back into keeping Politadick expanding our reach to all of you!
For Every $200.00 Donation made right now we will send you a "Make Alaska Great Again" Hat.  Six colors to choose from:
Red, White, Blue, Navy Blue, Pink, Royal Blue & Black.  Make sure when you make your donation to give your Full Address, Email and color of hat that you would like shipped to you.
You can also now find us on:
Parler @Politadick
YouTube.com/Politadick
Twitter @Politadick (Posting just YouTube Videos there.  Just started to add our Website Articles.)
Instagram @Politadick  (Will be posting regularly by the end of December)
MeWe @Politadick  (Nothing is set up for posting here yet.  Coming Soon)
Website @ www.politadick.com
As we grow we will be adding to the list of where you can find our Postings.  By January we are looking to take things to the next level with Weekly and one day Daily Podcasts, Live-Streaming to all Media Channels.  But the only way we will be able to make that happen is with your Support. 
Anything you can give helps.
www.politadick.com/donate