Pride at Delaney Park Strip June 16, 2018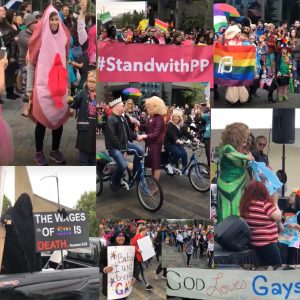 "2018 Pride Parade"
Anchorage Alaska
Part 1
"2018 Pride Parade"
Anchorage Alaska
Part 2
This video only aired on Facebook:
"Hmmmm….." 
"Pride without Protesters…  What was I thinking….."
This video aired only on Facebook:
"Some Fun at Pride…." 
FB has for some reason Disabled this from playing on our Website.
"Michael is that You?"
Michael Jackson Trans Impersonator 
This video aired only on Facebook:
"Pride Trans Performers" 
"Wow….  Just WOW!!"  The Joy they receive by performing for children…
This video aired only on Facebook:
Help Us Combat the Ministry of  Misinformation, Defeat the Far Left MSM & Government Narratives they keep spinning to us all by "Supporting What Matters!"
We work hard to expose what MSM & Our Government doesn't want us to know. Exposing the Corruption that is happening in Juneau and around our Great State of Alaska has turned into a fulltime job. We are working hard to report what MSM won't tell us, expose our Corrupt Legislators for who they really are and what they don't want you to know. But, we need your help to do it. By Chipping in a couple of bucks, we will be able to expand our reach and improve our content to you! Help Us Grow and Chip in a few dollars today. 
We are just getting started! 
Politadick, Exposing the Corruption in Alaska with Facts, that Local Media won't dare show you!