Convicts and Coin Flips Have Decided Our Elections in Alaska
Convicts and Coin Flips Have Decided Our Elections in Alaska.
Just imagine your liberty loving candidate has a solid lead as the polls close, but then loses by a razor thin margin when the absentee ballots are counted.
Did a Coin Toss in 2006 and 2018 Cost You $8,700.00?
The end of our PFD if you really think about it, began back in 2006 when Democrat Bryce Edgmon won his district on a coin toss. If you think elections don't matter, think again! Bryce Edgmon has been the Speaker of the House the past four years and under his leadership we have lost nearly $8,700.00 as Democrats/Independents and RINOs have raided our PFD.
Local elections matter too: Take a look at what happened in the Mat-Su Borough Assembly last year. Candidate Bryan Endle had the lead last year when the polls closed, but when the 686 absentee and 164 questioned ballots were counted, he lost just by just 25 votes. Endle called for a hand recount and was denied. Knowing what I have learned, we've got to wonder how many illegally registered voters made up that 25-vote margin. But without a recount, we will never know.
So how many illegally registered voters are there? Nobody knows, but in Fairbanks, it could have taken just one. One single vote decided the election between Dodge and Bart LeBon in 2018. Again… How many of the votes counted were actual Felons that legally shouldn't have been able to vote, but were?
In the same year that this election had happened, Palmer and Sutton Representative George Rauscher got a tip that a felon was voting in his district, so he started an investigation that led to a sweeping of possibly hundreds of convicted felons from the voter rolls across the state.
In Alaska, Felons are prohibited from voting – especially convicted rapists, pedophiles, and murderers. Alaska State laws make it almost impossible to vote after a conviction. But that didn't stop the Walker administration from automatically registering untold hundreds – or even thousands of felons during his four years. Is it any surprise to anyone to hear that the loophole was created by Democrat/Independents? (Alaska Courts now see them as one Party) We have been hearing from the Democrat/Independents during this Presidential Democrat Primaries keep telling us that Felons should be allowed to vote.
Our investigations show that convicted felons – sex offenders in this case below – have been registered and actively voting since 2010, even though their convictions prohibited voting. What has been provided below comes straight off of our election roster for 2017. His Name for now has been blacked out for privacy reasons. But if one was to wager a guess. The one investigating and getting Felons removed from the roles, knows this person's name.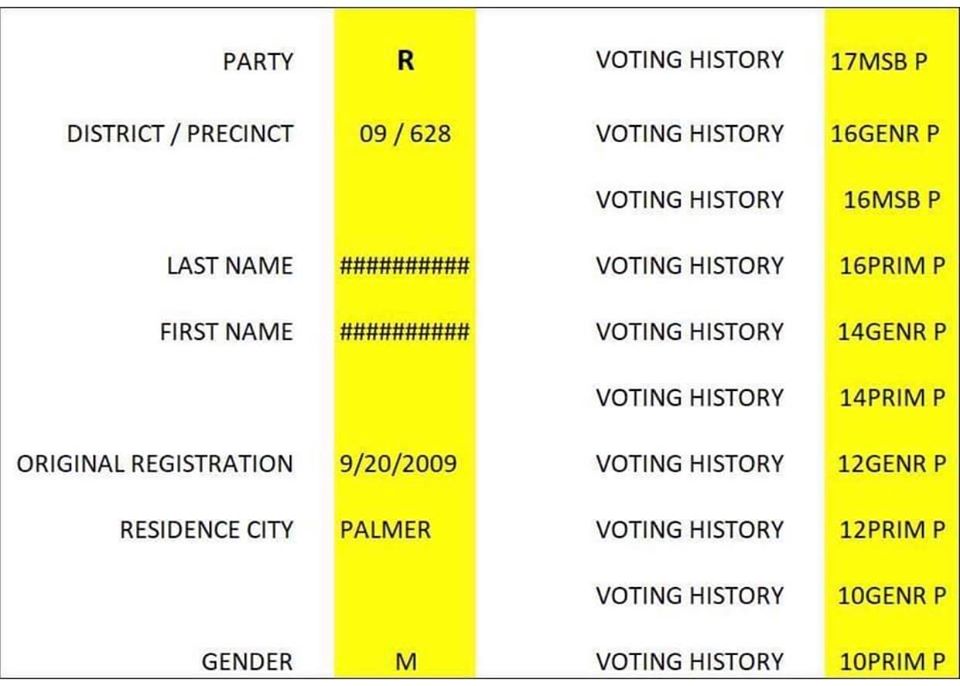 Stop and think about that. Felons have been voting illegally for years – and since many races are won or lost on razor thin margins, how many of the races have been decided by illegally cast votes by Felons? From just the one person discovered below. They were able to vote in every election listed below and did. Who is to say there is not Thousands of Felons in Alaska that are voting here Or how many of the 25 votes that cost Endle the election last year was cast by felons and other illegal voters…..? We Just Don't Know.
Just think about how many illegal absentee ballots were cast for Edgmon in 2006 that made the coin toss even possible – and then think about how much money you and your family have lost because of it. As Speaker of the House, Bryce Edgmon who has orchestrated the theft of our PFD's and been in charge for the last four years!
How many Democrats/Independents and Republicans, have benefitted from either the participation or the failure to address the illegal voters in their races?
Meanwhile the battle goes on in Anchorage as Representative Gabrielle LeDoux faces misdemeanor and felony criminal charges for voter fraud, a lot more must be done to prevent this from happening in the future.
Alaskans it is time to start Exposing Fraudulent Voters and Politicians who take advantage of a broken elections system, is critical. Voters like the one below and the crooked politicians like LeDoux who appears to have benefited from voter fraud and our completely corrupted system.
Here's how you can help. We need laws that require:
1. Voter ID required for all Ballots cast. This includes sending a photocopy of your ID in with "All" Absentee Ballots.
2. Paper Ballots Only. There needs to be a paper trail to follow.
3. All Recounts must be done Manually, if requested.
4. Prevent felons and others from illegally registering to vote.
This list is just the beginning of what needs to happen. Alaskans should be demanding they become law and to happen here.
FAIRBANKS EDGMON ELECTIONS
https://www.nbcnews.com/politics/elections/mystery-ballot-rejected-crucial-alaska-contest-separated-one-vote-n941976
https://www.adn.com/alaska-news/mat-su/2019/11/06/unofficial-mat-su-election-results-include-assembly-race-with-2-vote-margin/
https://www.frontiersman.com/news/borough-releases-final-election-results/article_97d4a006-05b0-11ea-95f2-3b4ad6f67124.html
https://www.ktuu.com/content/news/WATCH-NOW-Dept-of-Law-to-announce-criminal-charges-568779611.html?fbclid=IwAR1EWOOQNCgGxNM4GN_99YuixRSkP7miWOZ-ow58vfMGY0gB_5OAGSgYcL0
Rascher link: https://mustreadalaska.com/felons-voting-it-might-be-more-common-than-we-know/
Here is a Link to Part Two of Convicts and Coin Flips:
"Carman's Cabal"
Updated August 4, 2020
Link to Part Two of Convicts and Coin Flips:
We need your Help…
Exposing the Corruption that is happening in Juneau and around our Great State of Alaska has turned into a fulltime job. We are working hard to report what MSM won't tell us, expose our Corrupt Legislators for who they really are and what they don't want you to know. But, we need your help to do it. By Chipping in a couple of bucks, we will be able to expand our reach and improve our content to you! Help Us Grow and Chip in a few dollars today.
We are just getting started!
Politadick, Exposing the Corruption in Alaska with Facts, that Local Media won't dare show you!
Updated this on Facebook that has more information added to it for other Election Related Issues that are related directly to this posting here: