We could Build half of the Wall at the Border and Make El Chapo Pay for it….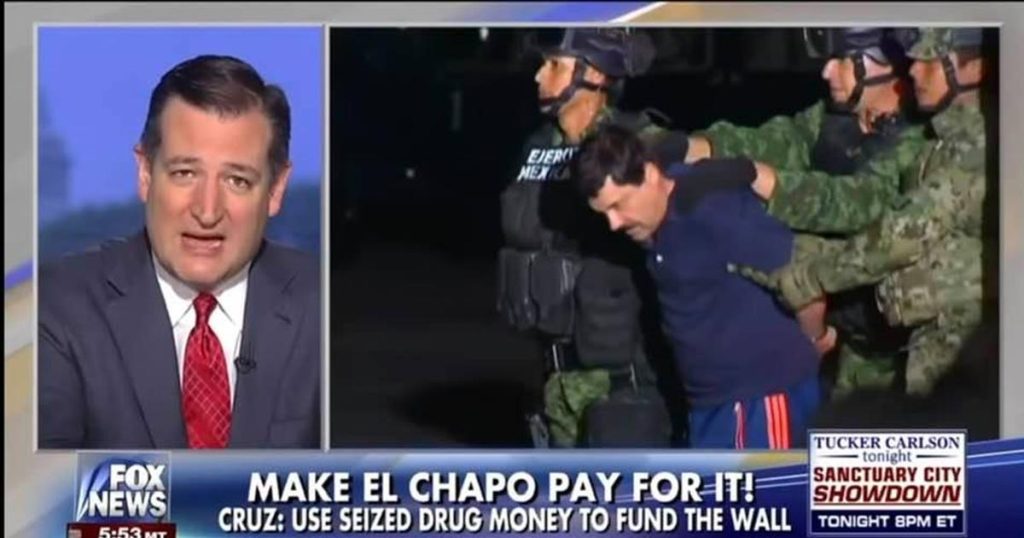 Now that El Chapo has been convicted. Senator Ted Cruz bill, "The El Chapo Act" can be used to to seize his assets totaling nearly $14 Billion dollars. Democrats want Mexico to Pay for the Wall. Well high time they did do just that. With the ill-gotten gains from all the drugs this person has carried into our country and all the American lives he has destroyed by taking advantage, deaths he has caused, all because of an open border and his drug trade from Mexico.
"The Democrats for Decades have been threatening government shutdown when it comes time to add funding into building the wall.  All because they are so opposed to finally securing our border," Sen. Cruz said. "So I have been trying to think about 'how can we get this done?' So yesterday I filed the EL CHAPO Act that provides that if El Chapo, the famed Mexican drug lord, is convicted, that his criminal assets go directly to building a wall and to securing the border and keeping our country safe."
In 2017 when this came out Democrats only approved $1.6 Billion for security and building a wall. The ones that they passed in the following years are even less and is designed to make it easier for any Illegal Alien Criminals to gain access to the USA as they reduced the Beds available to detain them.
Call our Senators and demand that this bill be put onto the floor of the Senate and vote it into law.
So what does our own Senator Lisa Murkowski feel about securing our border?  She of course voted for removing the Border Wall funding.  
"Build The Damn Wall!!"
With that money from El Chapo we could Build 1/2 of the entire stretch, with the top of the line technologies being employed.
We need your Help…
Exposing the Corruption that is happening in Juneau and around our Great State of Alaska has turned into a fulltime job. We are working hard to report what MSM won't tell us, expose our Corrupt Legislators for who they really are and what they don't want you to know. But, we need your help to do it. By Chipping in a couple of bucks, we will be able to expand our reach and improve our content to you! Help Us Grow and Chip in a few dollars today.
We are just getting started!
Politadick, Exposing the Corruption in Alaska with Facts, that Local Media won't dare show you!