I Love My PFD! What are you doing to save it….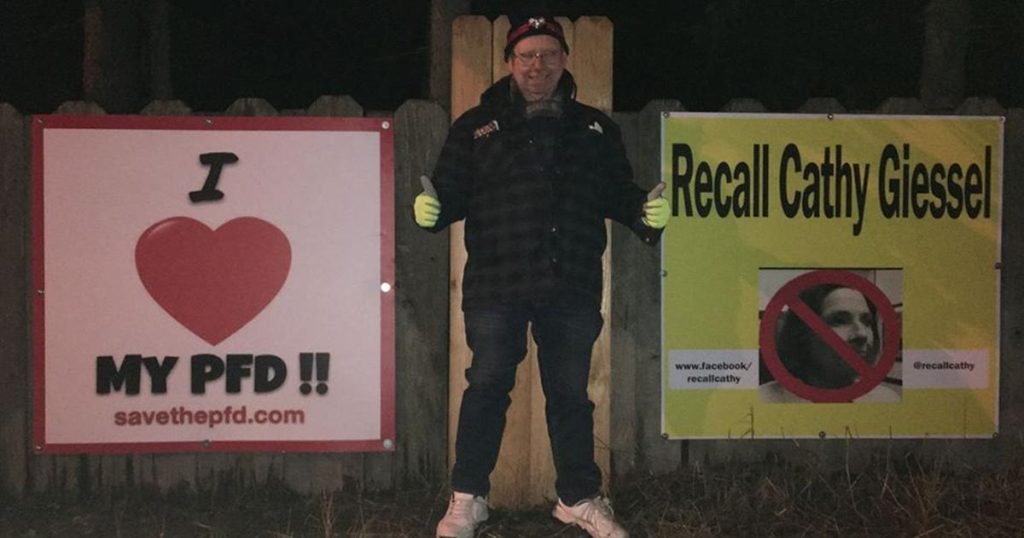 I 💓 My PFD!
Save The PFD!
Recall Cathy Giessel!
Do you realize, all Alaskan's own every Mineral in the ground and every Natural Resource above it? Like our fish, trees, oil, coal, etc… You name the resource. Alaskans Own It!
Link to our Certificate of Ownership given to every Alaskan when we Received our very First PFD:!
Become one of the Permanent Fund Defenders today and stop the Liar, Looters, Traitors and Thieves in Juneau:
One of the most Vocal Supporters I have met so far is Mike Widney. He has a message he made in this Video that "All Alaskans" should be hearing. The Fight for our Statutory PFD is Far from Over!
Here we have another Alaskan from Kotzebue that has a message for all of us about the PFD and what it means to him:
Governor Mike Dunleavy has never made it any secret about how he feels about our "Statutory PFD"!
Governor Jay Hammond made it very clear what he though about "Our PFD". He was one of the Very First Permanent Fund Defenders, before we even knew we needed one….
Updated May 7, 2020:
Now more than ever it is time for Alaskans to Unite and put a stop to the Theft of our PFD's once and for all. Take advantage of being stuck at home and contact Save The PFD and become one of Alaska's Permanent Fund Defenders!
Recall Cathy Giessel
Have you seen some of the latest on the Weasel Giessel?
Here she is explaining why she is not "Keen about a $3000.00 PFD":
Or how about this one here in a interview trying to explain why they are stealing the PFD. Has nothing to do with need. It's all about their Agenda:
September 20, 2020
Congratulation to Roger Holland for State Senate!!!
You handed this PFD Thief her Pink Slip!  Happy to see he won the General Election!  He will work hard to make sure we get our "Statutory PFD"!
Alaskans it time we stand up and unite together to Save The PFD!!
We need your Help…
Exposing the Corruption that is happening in Juneau and around our Great State of Alaska has turned into a fulltime job. We are working hard to report what MSM won't tell us, expose our Corrupt Legislators for who they really are and what they don't want you to know. But, we need your help to do it. By Chipping in a couple of bucks, we will be able to expand our reach and improve our content to you! Help Us Grow and Chip in a few dollars today.
We are just getting started!
Politadick, Exposing the Corruption in Alaska with Facts, that Local Media won't dare show you!
========================= 
We here at Politadick need your Support. Without your donations we cannot afford to keep "Breaking the News" that MSM and our Legislators refuse to tell you. We are looking to find 3500 people willing to donate $5-$100 dollars a month.  With your support we are looking to expand our content that we are bringing to you across all Platforms of Social Media.  All donations go directly back into keeping Politadick expanding our reach to all of you!
For Every $200.00 Donation made right now we will send you a "Make Alaska Great Again" Hat.  Six colors to choose from:
Red, White, Blue, Navy Blue, Pink, Royal Blue & Black.  Make sure when you make your donation to give your Full Address, Email and color of hat that you would like shipped to you.
You can also now find us on:
Parler @Politadick
YouTube.com/Politadick
Twitter @Politadick (Posting just YouTube Videos there.  Just started to add our Website Articles.)
Instagram @Politadick  (Will be posting regularly by the end of December)
MeWe @Politadick  (Nothing is set up for posting here yet.  Coming Soon)
Website @ www.politadick.com
As we grow we will be adding to the list of where you can find our Postings.  By January we are looking to take things to the next level with Weekly and one day Daily Podcasts, Live-Streaming to all Media Channels.  But the only way we will be able to make that happen is with your Support. 
Anything you can give helps.
www.politadick.com/donate