MatSu Valley Veterans Day Ceremony November 11, 2022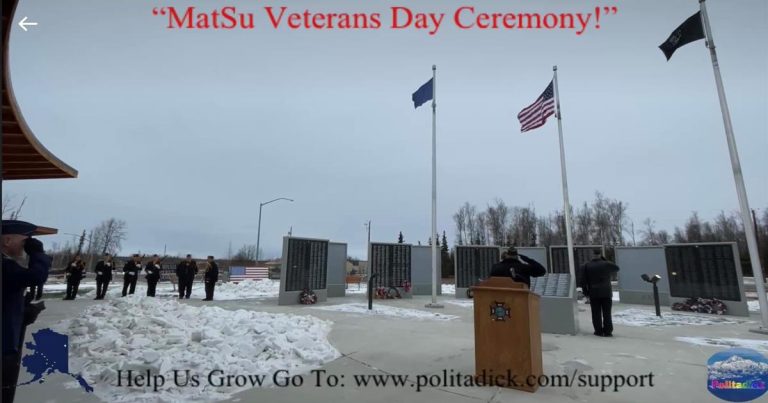 "
MatSu

Valley Veterans Day Ceremony

"
November 11, 2022

Thank You To All Our Men & Women who have Served, Serving & to all of them that gave the Ultimate Sacrifice to protect Our Freedoms we all have. Without their Sacrifice we wouldn't be the Greatest Place in the World to Live!

 

On this day, I always look to the Heavens & thank my Dad who gave the Ultimate Sacrifice to Protect Mine & Everyone Else's Freedoms!

 

God Bless America! God Bless Our Troops!
Make sure to Like, Share, Follow & Subscribe! MSM & the Radical Left hate it when you do that!
We at Politadick want to hear from you!
Is there an event, meeting, protest, rally, forum, debate, Schools Board, Assembly, City Council meeting, Town Hall, Holiday Event, or maybe have a juicy story that MSM of Alaska is ignoring & want it covered. Contact us & we will do our best to be there covering all the action as it unfolds.
Call or Message me @1-907-414-7885 or Email Us at: politadick@politadick.com & we'll see about making it happen!
We are working hard at Politadick to Expose what MSM refuses to tell you. Uncovering what our corrupt government doesn't want you to know.
This Broadcast Today is brought to you by "Supporters Like You!"
Help Us Grow By Showing Your Support!
Everything goes right back into expanding our reach to all of you and covers the ever increasing price of gas to make it to these events! Without Your Support…. None Of This Would Be Possible!
At Politadick, we have upped our game and now are broadcasting live on Five Channels, your Support Made That Possible!
Find us on:
Facebook @Politadick
Facebook @PolitadickUnfiltered
YouTube @Politadick
Twitter @Politadick
Make sure to also bookmark our website:
We have over the past year done some major upgrades to our website & steaming platforms to make sure we reach as many Alaskans as we can with the "Facts" that MSM & our Lawbreaking Government doesn't want you to know. Now we're taking things to the next level & working towards Live-Streaming to Rumble. Please go to:
www.Rumble.com/Politadick
and Follow Us There. Soon as we get 100 Alaskans following us. We will be able to stream LIVE on Rumble! 100% Unfiltered & Un-Cut! No More being censored for live-streaming a Election Integrity Forum or something to do with the China Virus.
Do you suffer from "Electile Disfunction?" If so, We at Politadick MD, have the Cure! Learn more about our Miracle Cure.
Help Us Combat the Ministry of  Misinformation, Defeat the Far Left MSM & Government Narratives they keep spinning to us all by "Supporting What Matters!"
We work hard to expose what MSM & Our Government doesn't want us to know. Exposing the Corruption that is happening in Juneau and around our Great State of Alaska has turned into a fulltime job. We are working hard to report what MSM won't tell us, expose our Corrupt Legislators for who they really are and what they don't want you to know. But, we need your help to do it. By Chipping in a couple of bucks, we will be able to expand our reach and improve our content to you! Help Us Grow and Chip in a few dollars today. 
We are just getting started! 
Politadick, Exposing the Corruption in Alaska with Facts, that Local Media won't dare show you!