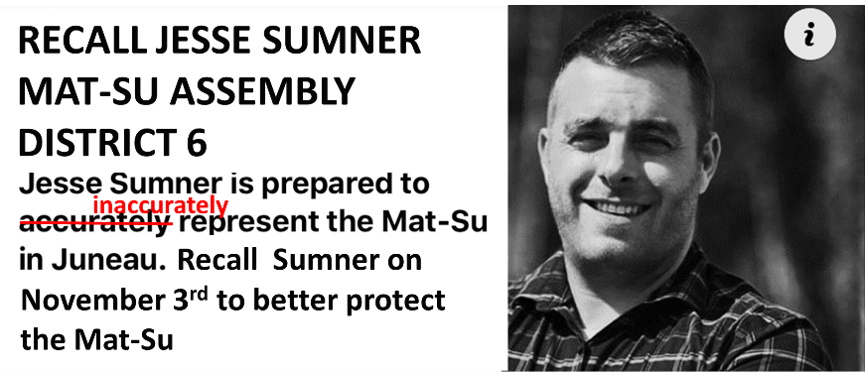 Hot off the Presses:
Recall Jesse Sumner sponsors want honest and accurate representation at every level of government. Jesse Sumner's blind ambition is demonstrating that he cannot provide either honest or accurate representation while serving in his current role as Mat-Su Borough Assembly Member.
For those who are supporting his campaign to Borough Assembly, as well as those who are supporting his campaign to State House, it's unfortunate that Sumner's deceitfulness was as obvious as it is, especially now that he is on the campaign trail.
It is here on the campaign trail that Sumner's deceitfulness has become readily apparent to those paying attention, as he has repeatedly failed to provide honest representation of himself and his political opponent(s).
Sumner's campaign advertisements claim that:
– He – alone – is responsible for lowering property tax mil rates.
– He – alone – defends 2nd Amendment rights.
– He – alone – has held off tax increases in the borough.
However, Sumner has refused to disclose the details about his criminal record:
When I interviewed Sumner, he Admitted to a DUI and speeding tickets, but refused to disclose that:
– He did not pay that fine and the Alaska Courts show he was sent collections for more than half of what he owes.
– He didn't disclose his 2014 public drunkenness misdemeanor
– He didn't disclose the warrant for his arrest in California – again, for refusing to pay fines
In his campaign against David Eastman, is when his true colors began to show as he has publicly accused Eastman of:

– Stealing money from Alaskans during the July 2019 Wasilla Special Session, a charge that is very easy to substantiate, but as you'll see, Eastman did no such thing.
– Defeating legislation that Sumner supports, a Heartbeat Bill, that Alaska Right to Life characterized as pro-choice legislation that Planned Parenthood uses to raise money and support for abortion.
Finally, the grounds for recall should be very clear:
Jesse Sumner has lost his way. His ambition for power has driven him to lie in public about his own crimes while falsely accusing another of criminal activity.
The borough has received the Petition for Recall and is consulting with internal and external legal advisors to validate the basis for the recall and then they will issue petition books in the coming weeks.
Check back soon for updates on this exciting development!