Alaska School Policies for Halloween are taken to the Extreme….. (Video)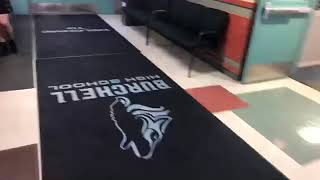 Halloween Ban at Burchell High School. One student stands up for her rights and WINS!
Any form of expression showing an individuals personality, was put to the test today at Burchell High School. After a lengthy discussion with the principle. They determined that even though they have place a ban on today, for wearing any makeup or anything that might represent Halloween in school.
Now this student didn't violate any policies, but was singled out from the whole school, for dressing as she has done multiple times during this school year. After nearly two hours of missing class. She was allowed to go back to class, still wearing what she had on and the makeup that was applied. Big win for Alaskan students today for their First Amendment rights they have.
The school Administration realizes that the policies they have in place can be construed as discriminatory toward students freedom to express themselves. We have gone through their entire School Policies handbook regarding dress codes and Halloween. Nothing in it gives them the right to do what they have put into place for this one day of the year. I'm very proud of my kiddo today standing up to the administration at the school and their clear attempt to make up rules, that clearly takes away a child's rights to express themselves.
This video originally aired on Facebook:
We need your Help…
Exposing the Corruption that is happening in Juneau and around our Great State of Alaska has turned into a fulltime job. We are working hard to report what MSM won't tell us, expose our Corrupt Legislators for who they really are and what they don't want you to know. But, we need your help to do it. By Chipping in a couple of bucks, we will be able to expand our reach and improve our content to you! Help Us Grow and Chip in a few dollars today.
We are just getting started!
Politadick, Exposing the Corruption in Alaska with Facts, that Local Media won't dare show you!
We here at Politadick need your Support. Without your donations we cannot afford to keep "Breaking the News" that MSM and our Legislators refuse to tell you. We are looking to find 3500 people willing to donate $5-$100 dollars a month.  With your support we are looking to expand our content that we are bringing to you across all Platforms of Social Media.  All donations go directly back into keeping Politadick expanding our reach to all of you!
For Every $200.00 Donation made right now we will send you a "Make Alaska Great Again" Hat.  Six colors to choose from:
Red, White, Blue, Navy Blue, Pink, Royal Blue & Black.  Make sure when you make your donation to give your Full Address, Email and color of hat that you would like shipped to you.
You can also now find us on:
YouTube.com/Politadick
Twitter @Politadick 
Instagram @Politadick 
Website @ www.politadick.com
As we grow we will be adding to the list of where you can find our Postings.  By January we are looking to take things to the next level with Weekly and one day Daily Podcasts, Live-Streaming to all Media Channels.  But the only way we will be able to make that happen is with your Support. 
Anything you can give helps.
www.politadick.com/donate